Geschreven door Jessica Santiago Lopez op 2012-08-17 15:10:38
Interviews :: Interview met Seether
Voor de Seether fans in Nederland is het een goed jaar geweest. Begin dit jaar stond de band al in de Melkweg en op zaterdag 7 juli was de band opnieuw te zien in Nederland. Dit keer op het Bospop festival, waar ze al vroeg aan de beurt waren. Nadat de band een toffe show weggaf (review is hier te lezen) kreeg ik ook nog de kans om Seether backstage een aantal vragen te stellen. Wat daaruit kwam kun je hieronder lezen.

Q: Thanks for the interview. Great to have you back again in the Netherlands! How are you?
Dale: Stable haha.
Shaun: We're good, we're good. A little bit jetlagged, a little bit tired, but it's been good. We've done a couple of festivals and a couple of shows and it's been fun. We enjoy touring Europe. It's something we don't get to do very often. Well…this year we've been here a lot and we plan on coming back here. But we hadn't been here in a while, so whenever we get the chance to come here it's fun and we embrace it. It's good.
Q: How has this year been going so far for Seether?
John: It's great. It's been really busy. A lot of touring. We were actually here in January/February, touring Europe. We started in Thailand actually, then Australia and then to Europe, where we did shows with 3 Doors Down in Europe and the UK, which was great. Then went back to the US to tour with Nickelback that just wrapped about a week and a half ago and now we're back here doing festivals and with plans to come back here in November. So we're touring through the year and doing what we love to do. We're a bands and we play live and do shows, play with our gear turned up very loud, hit the drums real hard.
Shaun: What?
John: We're all deaf, massive ringing you know, haha. But it's been great…lots of touring! We've been very busy.
Dale: Lots of drinking.
Q: Do you have plans to hang around here today and check out the rest of the festival?
Shaun: I don't know. I think we might leave a little bit early because we're all very tired.
Dale: But I'd like to see Lenny Kravitz.
Shaun: I don't think there's going to be Lenny Kravitz for you, you're pretty hammered right now haha.
Dale: Yeah…
John: It's been crazy we've been in five countries and then we're headed to Canada at 6:00 AM. That's one of the reasons we might leave early. So this has all been in a 2 week period and we've been to five countries already.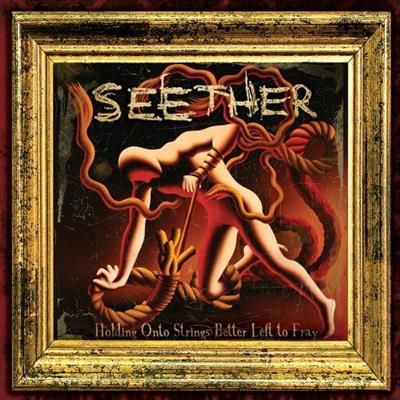 Q: About your latest record 'Holding Onto Strings Better Left To Fray'. It was very well received with a number # 1 position in the charts and the three singles went to #1 position. Did you expect this in any way? It must be awesome.
Shaun: Absolutely. We hadn't been around for a while. We had taken about two years off and you never know what to expect. You know what I'm saying? You come back and you put out some music and hope that people will like it, and it's been the most successful album we've had. So that has gone upwards. When we started not selling albums, no one sells albums anymore, but when people stopped giving a shit we were like well, we should go in to carpentry or …a fishing business in Florida.
(To Dale) Well.. you can prostitute, you've got the looks for it. You have that dirty "I'll do anything" look.
But yeah, it's been exciting as far as that goes. It's been a long year actually. It's only been over a year since the album came out and we've been touring for a long time. Most of us only got about 4 hours of sleep last night and we flew from Milan to Dusseldorf and we drove up here. It's a…Sometimes you're too tired to understand what's going on. You're just trying to exist and get through the show.

Q: So what did you think about the show earlier today? It's pretty early for you guys I think?
Shaun: Well, you know, we are starting out here. Basically on a lot of these festivals no one really knows who we are. We have fans obviously, but it's not like we've had much success overseas. So we're trying to remedy that this year, it's the second time we've been in Europe this year and we're coming back in November to do a headline tour.
It was early and it was hot, but it was cool. It's a different experience, a different country and different crowd. For us that's why we play music. We want to go to new places as much as we can.
I think as far as that goes, we've played. I don't know how successful it was but, yeah. We're also a different kind of band, we don't do all that talking shit. I just don't have that in me. So we just play music. Really, I think the most important thing about our band is the music. Whatever we have to say is not as important as the music as far as I'm concerned. So in that sense, I think it was a great show.
Q: I do agree with that about the music. I also think that one of the things that make Seether such an awesome band are the lyrics and how awesome they combine with the music. They have a huge impact on the listener. How is it for you to know that you touch so many people's lives with each record?
Shaun: It's awesome but it's also daunting. It's scary. The dream you had as a little boy of "I want to be in a band someday". Then you start to play in a band and the band starts spreading it's wings and it starts playing different countries and building fans everywhere. I mean…there are worse jobs right? haha
Dale: Fuck yeah.
Shaun: At least we aren't at McDonalds flipping burgers and all that… I think a lot of the time.. Honestly it's almost like, everyone is so in to it and it's exciting but it's really a tough job. We've played a lot of shows this year in about 25 different countries and we fly tomorrow morning to Canada to play a show, then we go to the States were we have three shows and then we go home for two weeks. Then we go straight to South Africa and we'll be two weeks there. Then we come home and we do our own headlining run in the States so. I think sometimes… we're not 21 years old anymore. I'm 33, he's in his 30's and he's 32. It starts taking a toll physically and emotionally, mentally. As much fun as it is so… We're just trying to find a balance between what pisses you off and what makes you happy and we're trying to navigate that traitorous ocean between those two islands. But again…there are worse things to be doing haha.
Q: Can you tell us a bit more about the title itself, which is pretty long?
Shaun: Well…I read a lot of books. And I read something in a book, and some of that has been changed slightly. But it made sense as far as what we write about and what the lyrics are about and how it's about letting go of things. Understanding that sometimes a relationship is a negative thing and that it's ok to say 'I don't want this anymore', instead of holding on to something desperately because it's better than being alone. I've learned that the older I get, it's easier to be alone. You don't rely on somebody else as much for self gratification. I don't need somebody to tell me how awesome I am or to make me feel how loved I am. Well… not completely but a lot less than it used to be. It's about recognizing the thoughts in certain relationships and then saying 'I don't want to do this anymore'. The title, I liked the way that the title was slightly vague and not so specific. It was a bitch coming up with an album title, it's tough. Even coming up with a track list takes a long time. I listen to songs over and over and over, I'll re-arrange them and I'll the order that I think flows best. One that gives you like an emotional ride. These days who gives a shit anymore, everyone just downloads a single or steels the music anyway so, it's like the whole concept of the artwork applying to the album…it's supposed to be this experience. You put a lot of time and a lot of love in to the final product and it's like it doesn't get respected anymore.
Q: I know Forsaken was one of your (Shaun) favorite tracks on the record. Dale, John, what's the favorite track on the record for you?
Dale: Uhm, I don't know. It's funny, it changes when you listen to the album or play the songs live, it changes. I think mine is 'Tonight' right now. I just love that song. It's got a great hook. It's concise, it's to the point. There's no sort of time wasting and it says what it needs to say. I'm just a fan of that one, I'd say that's my favorite.
John: It's really hard to pick you know. I've had a lot of favorites and for different reasons. I don't know, this week maybe 'Here and Now'. I think 'Roses' is a great song because it's kind of like outside of our comfort zone. But I thought we'd pulled it off really well. There's another song, a bonus track called 'Yeah', and I love that song too. It has a Soundgarden kind of feel to it. The whole song is just really cool, cool bridge and it's really hard. Seriously I'm just very proud of the album. We've worked very hard and all the songs I think are fully realized and really strong songs you know.
Q: Forsaken is actually my favorite of this album, any chance of hearing it live during of your upcoming tours?
Shaun: I 'd love to play it. I like to play stuff that's a little bit more dramatic every once in a while, like 'Roses' or 'Forsaken'. On the older albums it would be like 'No Jesus Christ' or 'Walk Away From The Sun'. There was stuff that was waist. Something that was a little bit more epic sounding in a sense. I'd love to play 'Forsaken'. When I was writing that song , it was one of those song that just for me on an emotional connection level, it was huge. That's one that I can listen to over and over and over. It just gets better every time. I never get sick of it. And it's not like, I don't it sit around and listen to my own music all the time, but it's that one song that I go back to. It just got that slow, driving just epic sound thing. And that came from a demo that Dale came with (that guitar part). And I was like, you know what, the rest of that song sucks but I like that part haha. But the melody that he came up with was so epic to me and it's so…almost gut wrenching in a sense. So I connected with that so hard. We turned that in to a song and that became like the main theme of the song and it was awesome. I'd love to play it, but we're a three piece band now again, so it's a little difficult to pull this off. But I'd love to work it out and figure out a way that we can do that. Fuck yeah, I'd love to play that stuff. The deeper stuff, not the radio stuff, but just the songs that you have a deeper connection to. Like Johnny has a lot of connection to songs of the first album that he wasn't part of, but it's just because he is a huge fan of Josh Freese and also because he learned that to join the band. So a lot of those songs have a lot of attachment to him. And every album has one of those songs where you go like 'Dude, that's the one. That's the one I love'. And to me I think 'Forsaken' is one of the best things that we've ever come up with. And it's cool because it's never going to be played on the radio. And that's fine. I'd rather discover that one as a fan. I think that that's…if you're a fan of the music, if you're a fan of the band you buy their albums. You don't just go get the singles and later go like oh I don't know this song. For me…I buy whole catalogues of bands. I have every Pearl Jam album, every Nirvana album, every Deftones album, every Rage Against The Machine album, every fucking…you know…you name them. Because I want to find out what's going on. I want to find these hidden little gems that are on these albums that you'll never hear on the radio because their too long, or not commercial enough or whatever. Those are the songs that for me just mean a lot.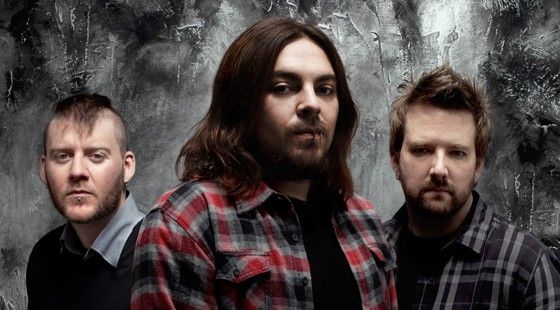 Q: Even though it was well received, there were some critiques as well that I've read online. Some saying that the album was supposedly too soft and too positive for Seether. What do you think about this?
Shaun: I think this album has some really heavy shit on it and I think a lot of the lyrics are kind of gloomy. The only song that I can think of that is really positive is 'Tonight'. I think 'Pass Slowly' is one of the saddest songs we've ever wrote. It's maybe not too heavy but lyrically it's a real tough one. 'Country Song' is a pissed off song. I don't understand why it's lighter. Everyone is like "go back to like 'Fine Again' and fucking 'Broken'. Those songs are both none heavy songs. And those are songs that I wrote like 10, 12, 15 years ago. So I don't understand it why it's not heavy. I think that if you really read the lyrics and really dig in to the music, this is one of our most pissed off and sad…I was going to quit fucking music during this album. I was like I don't want to do this anymore. Then I was sitting there and I kept finding reasons to go through with it. And these guys were playing and I was getting inspired by it. Half of these lyrics are me trying to claw my way back in to wanting to do this. And then to say that it's not heavy? I don't give a shit. That's your opinion. If you think 'Disclaimer' was heavy than that's cool for you. I think this album has some super heavy moments. And certainly lyrically it's really fucking angry and sad. And then there's this one hopeful moment that becomes the flagship of an album. That's bullshit. To be honest these days, I write music for myself now. I don't care about what everyone thinks. I used to be so concerned about what the critiques, and these people that sit at home behind their computers with their anonymous powers would say. But that has changed. I just don't give a shit anymore. We've come to the point I think as a band were we don't give a fuck about what people think. We were put in Uproar with Metal bands and we're a rock band. At first I thought we didn't belong. Then I was like well maybe we do belong because of the fact that we aren't like them. And you know, I could not be bothered with what people had to say anymore. Because I used to read to infinity and it would destroy my fucking life for six months. One bad thing in between thousands of thousands of good things, and one bad thing would piss me off. So I stopped reading them. And honestly again, I love the fact that people like our music and that is great because if gives us a carreer and it gives people something to listen to, but this shit is what keeps me alive. And first and foremost I'll always write music for myself, and the fact that I can do that and reach out to other people as well is awesome, but it's not my motivation. I mean because if I was writing music for other people I wouldn't be writing this kind of stuff, I would be writing pop music. I would be writing 'Hey, The world is awesome'. And it's not. So.
Q: 'One Cold Night' came out in 2006 which is a while ago and since Seether's live performances are so powerful. Are there any plans for a new DVD maybe?
Shaun: We'd love to do one.
Johnny: We'd love to make a new DVD. That would be really cool.
Shaun: Absolutely, but not like everyone else is doing. Like live at this one place. I want to do a DVD where it's clips of us playing in tons of different places. Backstage shenanigans. We do all sorts of crazy things backstage. Half of the time is probably not fir for consumption but….
I think if you want to do a DVD it should be less focused on the live stuff and more focused on the band itself. We have really like 100 of hours of footage of us screwing around backstage, like dressing up in dresses and wandering around.. really there's a lot of stuff that we do. That's what I would like to do if we'd do a DVD. I would be more focused on who we are as people than on the music. Because most of the people who would buy the DVD has seen us play, right? It's not about our live shows but more about this is who we are. We're a bunch of idiots. We run around backstage, we get hammered and we break stuff. You know so. Haha. I'm very loath to expose myself that much, like on Twitter or Facebook. These guys are much more on it than I am. In the world we live in I should probably embrace it, but I just can't. I feel like it's an invasion of privacy. But a DVD , I would love to do one like this. Plus Dale has a little dance that he does that is amazing. It's stuff like that, that I think people would… and honestly I think that's more interesting to see than a band playing on stage, because you could see that any day of the week. Fundamentally a band playing doesn't change. From band to band to band, obviously there's different levels of playing and musicianship and everything, but it's just a bunch of people playing on stage. But what goes on behind the scenes…that's what cool to see. I mean, look at this awesome dressing room haha. It's fucking sex, drugs and rock'n'roll right haha. It's so glamorous right? No, it sucks, but it's still kind of cool.
Q: And my last question, do you have any message for our readers?
Shaun: Why the fuck do you still listen to our music? Haha.
Dale: Don't smoke bath salts.
Shaun: Yeah, stay away from bath salts. No, actually, start snorting bath salts so we can bring down the zombie apocalypse. Let's bring down the system haha.
No as always, we're very thankful of the people that listen to our music and we're very appreciative of the people that come out to our shows. Sometimes like 5 or 6 hours before. We have some very committed fans. It's always a wonderful experience to be in front of you, of people that enjoy what we do. And that is what keeps us going. So basically just thank you.
John: Yeah, thank you!
PS. Seether is eind dit jaar weer in Europa te zien en zal tijdens die tour ook een stop in Nederland maken. Op dinsdag 20 november staat de band in de 013 in Tilburg. En een show van Seether is echt absoluut een aanrader! Dus wil je erbij zijn? Kijk dan op www.013.nl voor tickets en meer info.