Geschreven door Jessica Santiago Lopez op 2012-06-07 16:20:35
Interviews :: Interview met Demented Are Go
Demented Are Go heeft natuurlijk geen introductie meer nodig, want denk je aan Psychobilly, dan is dit één van de eerste bands die wel door je gedachten heen moet schieten. Het heeft even geduurd, maar dit jaar kwam er dan eindelijk een nieuw album uit en 'Welcome Back To Insanity Hall' is alles wat je van Demented Are Go kan verwachten. ( De review van het album kun je hier lezen). Ik sprak drummer Chris Damage over het verleden, de toekomst en uiteraard ook over touren en over het nieuwe album. Check it out!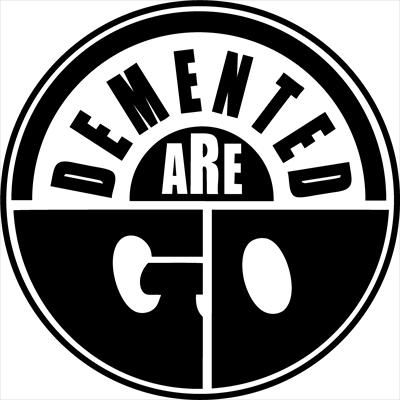 Q: First of all I would like to thank you for taking the time to do this interview. How are you?
Chris Damage: We all doing great, thanks for asking. Sparky had a little health problem a while ago, we won't go into details apart to say it wasn't drink or drug related (Unbelievable I know)..He's recovered now and is back on top form...
Q: So 'Welcome Back To Insanity Hall' is now finally out after a 7 year wait. How have the fans and the media received it so far? Was it the reception you had hoped for?
Chris Damage: It's been mostly positive from the press and the fans seem to like it.. We're very happy with the way it has been received, we've had some praise from ex-band members as well, which is nice.. We all like the LP too and are proud of what we have achieved so far...
Q: Can you tell us a bit more about the record itself for the people who haven't heard it yet, what can they expect to hear on it?
Chris Damage: It's typical Demented really...fast punky songs, Country influenced mayhem, 60's garage cover songs. Lyrics about sex, blood, death and zombies with a bit of female mud wrestling thrown in for good measure... Hard to pigeon-hole but our fans have not been disappointed with the variety of material. I know this is hard for our die-hard psychobilly fans to swallow but we don't class ourselves as Psychobilly or Punk but somewhere in-between.. Punkabilly...Yeah, that's us....
Q: You worked with Tim BukTu for this album, but unfortunately he passed away during the process. I can only imagine it had a huge impact on all of you. How did his passing affect the rest of the work on the album?
Chris Damage: It was heartbreaking, really fucking heartbreaking. Tim was the best engineer/producer I've ever worked with and a personal friend of Grischa (Bass player) so it really hit him the hardest of all.. Tim was a lovely, lovely guy, passionate about music and art. He got the best out of you, made you up your game and we all wanted to do our best for him, so when he passed away we increased our efforts to finish the record. It was what Tim would have wanted. It's a hard question to answer because it stirs up emotion in me and makes me really fucking sad. I still can't believe he is no longer with us.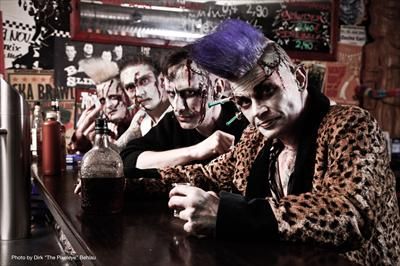 Q: As I said, it's been a while since your last release and some songs I believe were already written for a while before you decided on recording them for this record. Was the approach for the recording process different this time around than for earlier records?
Chris Damage: It was very different to anything we've done before. Sparky lives in Rotterdam, Holger and Grischa in Essen and I live in the UK so we basically met up at Grischa's studio in Essen and hammered out the material in the rehearsal room and added some ideas of our own. Tim also came to the studio to listen to us rehearse and offer his advice too...We chose a dozen songs that had already been recorded as demo's by Sparky and Stan, before Stan quit in August 2010, added a few cover versions and that was it really.
Q: Through the years Demented Are Go has achieved this legendary status in the scene. What is it like for you guys to be called a legendary band?
Chris Damage: It's something we have to live with. We're not rock stars, we don't want to be rock stars but the 'legendary' status we're tagged with suggests that we are. I think that, because the band has been around for 30 years, that has something to do with it. Some of the younger bands must get tired of all the bands like us that have been around for years hogging all the glory but that is what the scene is like. It's great to be popular and to travel the world playing our music to people who dig what we do.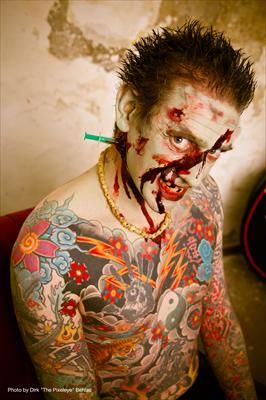 Q: We all have our ideas for what a perfect show band line-up would be, but what I'd like to know is… If you could pick out a few bands to play a show with, which bands would you chose?
Chris Damage: Easy...Bob Log III, Bob Wayne, Hillbilly Moon Explosion and Peter Pan Speedrock.
Q: Your coming back in July for a show in The Netherlands. What can people expect from the show this time?
Chris Damage: Blood, latex, Make-up....We've got some songs off the new LP in the set which we mix with a good selection of older stuff, classic's like 'Holy Hack Jack', 'One Sharp Knife' etc...
Q: So what more is in store for 2012 for you guys?
Chris Damage: We're gigging to promote the LP, (the dates are on our Facebook page) but we want to get back into the studio as well.
Q: Any plans maybe for a new record already or will fans have to wait a while again for a new one?
Chris Damage: We may do a collaboration with the Heartbreak Engines and record a song that Tim wrote called 'Bold Hunter' but that is only at the planning stage at the moment, so we still have to make it happen... Sparky has also been asked to sing on a track with Bob Wayne and his band, which is an exciting prospect...
Q: And my last question, do you have any message for our readers?
Chris Damage: Yeah, don't get stuck in a rut listening to the same old music, get out there and try new things, keep moving on..And remember it's not about where you take your influences from, it's about where you take them to that matters...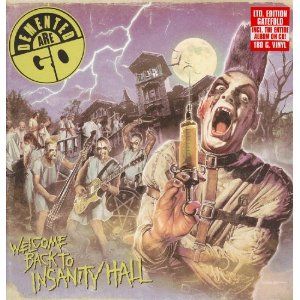 http://dementedarego.co.uk/
http://www.facebook.com/Official.DementedareGo