Geschreven door Bas 'Sjerruf' Aldenzee op 2012-04-23 19:05:33
Album Reviews :: Vengeance - Crystal Eye
Artiest: Vengeance
Album: Crystal Eye
Label: SPV Steamhammer
Release: Out now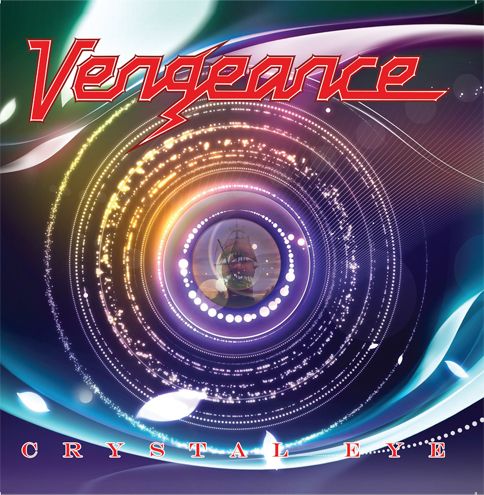 Line-up:


Leon Goewie (vocals)
Chris Slade (drums, AC/DC)
Keri Kelli (guitar, Alice Cooper)
Chris Glen (bass, MSG)
Michael Voss (guitar, Mad Max)
Timo Somer (guitar, Delain)
Jan Somers (guitar, Jan Somers band) R.I.P.
Het album:
Je kunt van
Vengeance
zeggen wat je wil, maar anno 2012 zijn ze er nog steeds. Weliswaar draait het alleen nog om frontman Leon Goewie en is hij de enige overgeblevene van de originele bezetting. Sinds zijn terugkomst in 1998 met het album '
Back From Flight 19
' is hij de drijvende kracht achter Nederlands enige echte party-rockband. Na het tragisch overlijden van gitarist Jan Somers eind januari 2011, is de gedreven zanger niet bij de pakken neer gaan zitten en heeft direct besloten om dit album op te dragen aan zijn goede vriend en soulmate. Het resultaat is een op en top
Vengeance
plaat waar de energie werkelijk vanaf spat. De vibe van de laatste 2 albums '
Back In The Ring
' (2006) en '
Soul Collector
' (2009) wordt op '
Crystal Eye
' feilloos voortgezet. Samen met producer/songwriter/gitarist Michael Voss (Mad Max) is er gewerkt aan dit album. Vanuit diverse hoeken zijn songs aangedragen die door het duo uitgewerkt zijn tot lekkere groovy partyrock waar
Vengeance
een patent op blijkt te hebben. Het meeslepende titelnummer is zelfs aangedragen door
Vengeance
oprichter Arjen 'Ayreon' Lucassen. Om het album in te spelen is de hulp ingeroepen van Alice Cooper gitarist Keri Kelli, MSG bassist Chris Glen, ex-AC/DC drummer Chris Slade en Timo Somers - die ook al op het laatste album te horen was. Op de stembanden van Goewie zelf, lijkt nog lang slijtage te zitten en zingt hij nog steeds met het gemak songs als '
Me And You
', '
Bad To The Bone
', '
Whole Lotta Metal
' en de (semi-)ballads '
Promise Me
' en '
Missing
'. Tijdens het nummer '
Jan's End Piece
' is de geest van Somers duidelijk terug te horen; het nummer is opgebouwd uit oude takes die nog op zijn laptop stonden. DO YOU HATE HARDROCK??? GUESS YOU?VE NEVER HEARD
VENGEANCE
anno 2012.
Tracklist:
01 Me and you
02 Bad to the bone
03 Bbq
04 Shock me now
05 Five knuckle shuffle
06 Desperate women
07 Whole lotta metal
08 Promise me
09 Crystal eye
10 Missing
11 Jan's end piece
Links:
http://www.vengeanceonline.nl/