Written by Jessica Santiago Lopez at 2012-08-08 16:01:06
Interviews :: Interview with Spineshank
Spineshank is finally back again after beeing absent for a while, and with it's original line-up. The band finally released their latest record, 'Anger Denial Acceptance' on June 18th. A long awaited record for me as well and which I was excited to finally hear. As a fan of Spineshank's music...a new record was a great moment for me to ask the band some questions as well. I spoke to guitarist Mike Sarkisyan about the new album, Spineshank's return, an European tour and more.

Q: First of all thank you for this interview. It's so awesome to have Spineshank back with new music! How are you?
Mike: I'm great thanks.

Q: What is it like for you guys to be back as Spineshank and to finally have the new record out?
Mike: It's a great feeling. We worked really hard on this record and it took a long time to complete and find a good label home. At times it felt impossible but I'm proud that we stuck with it and persevered.

Q: Even though you guys quit for a while, many fans kept hoping for a Spineshank return with this line-up. How do you feel about all those people that didn't forget about Spineshank? And how have the response from the fans been now that Spineshank is back?
Mike: It feels great to be away for as long as we did and come back to our fans still being here. For the first time in our careers we made a record with no label, no management, no outside producer so in a lot of ways this was done for us and our fans only, no outside influence whatsoever.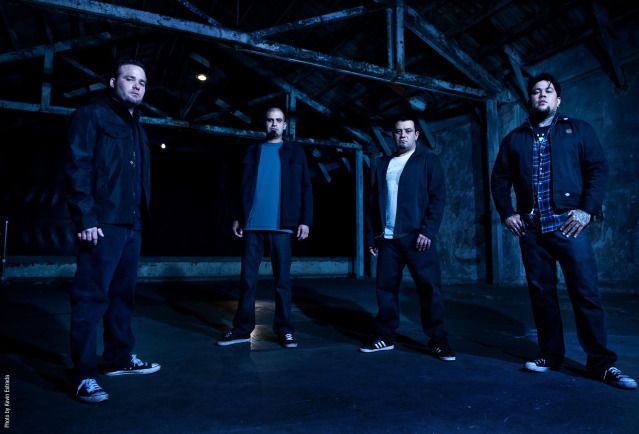 Q: So about the new record, which really sounds awesome by the way. For the people who haven't heard it yet, can you describe what they can expect to hear on 'Anger Denial Acceptance'?
Mike: Thank you. If I were to use one word to describe the record it would be DARK. It's a reflection of where our heads were at while we were writing and recording. In a lot of ways it's heavier and more melodic but it's definitely darker than anything we have done prior.

Q: Now that the record's been released, how has the feedback been from the media and the fans? Was it the kind of feedback you had hoped for?
Mike: There's been a lot of positive feedback, which is great. I have also heard things along the lines of "oh, it doesn't sound like 'The Height Of Callousness' or 'Self-Destructive Pattern" but that's fine….We never intended on remaking our previous records.

Q: What was it like to all get together again and record Anger Denial Acceptance as Spineshank?
Mike: It was a natural process. We started hanging out at first and just messing around in the studio. Once we realized that we could make a record that would be the definitive Spineshank record, we were firing on all cylinders.

Q: What were the biggest challenges during the whole process of creating, recording and releasing
the album?
Mike: Not having an outside producer was definitely a challenge. Luckily, Tommy Decker and me kept each other in check for the most part. Not having a major label budget was another one. For the first time ever we were making a record not ever knowing if it was going to see the light of day. But that may have been the exciting part. It was almost as if we were completely liberated from the business part of the music and were just 100% into the creative aspect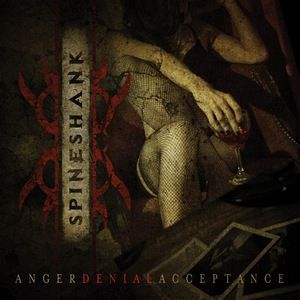 Q: Can you tell a bit more about where the inspiration came from this time?
Mike: It was very personal. We were all going through some life-altering experiences. Whether it was death or divorce, or any kind of a loss. It was a record that felt like we had to make, artistically in some aspects, but also as a form of venting and getting the negative energy out.

Q: Again a bit more about you guys reuniting as Spineshank. How and when did you guys came to the point of breathing new life into Spineshank?
Mike: We all got together in a room in the summer of 2008. We just picked up our instruments and started playing. It wasn't until a few months later that we started focusing on making a record. After numerous setbacks (our equipment getting stolen, a few deaths around us, divorces etc…) we finally completed ADA in early 2011.

Q: About touring. I know I, and many with me, can't wait until you guys come back to the Netherlands or Europe. It's been quite a while, since 2003. Any idea when that might happen?
Mike: We are looking at late fall of 2012. Hopefully that can happen but if not, we will be there very soon. We love touring there and can't wait to come over.

Q: So what more is in store for you in the near future?
Mike: TOURING, lots of it.

Q: And my last question, do you have any message for our readers and your fans?
Mike: Thanks for sticking by us, you guys' support means everything. We will be out there soon to rock your asses off!