Written by Jessica Santiago Lopez at 2012-07-13 12:07:54
Album Reviews :: Hellyeah - Band of Brothers
Hellyeah - Band of Brothers
Label: Eleven Seven
Release: July 17Th 2012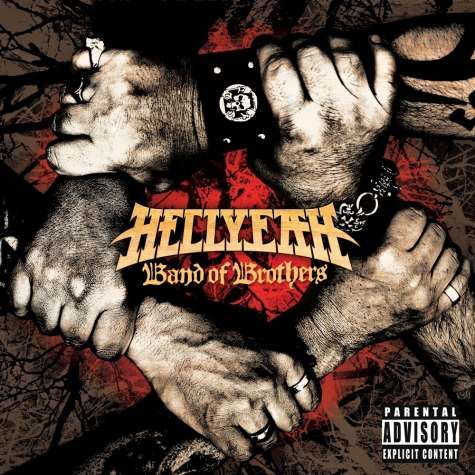 Line-Up:
Chad Gray - Vocals
Greg Tribbets and Tom Maxwell - Guitars
Bob Zilla - Bass
Vinnie Paul - Drums

The Album:
After touring intensively through the world, the Southern Metal band Hellyeah comes back with their third album called 'Band Of Brothers'.The first thing we can say about this one is that it's full of surprises and really has kick ass songs. Yeah, there's the groove that Vinnie Paul always leads through the songs, wich always has a big impact on the way we feel Hellyeah's music since the begining.
But this time, it's different...
I play the first songs 'War In Me' and 'Booom!!!' and it sounds like a BLAST from the begining! It's surprising at first, because it's more like a Mudvayne song and Vinnie Paul is another man on this record. This time it's more like a more polyvalent drummer. His drumming changes frequently and makes the album even more interesting.The riffs style has changed too and the rythms are sometimes more syncopated. Some solos are more melodic as well, like in the first song for example, with two guitar harmonies.
The title track 'Band of Brothers' is the first single of this album. It's a typical Hellyeah song with powerfull lyrics about brotherhood. As always, the music sweats of energy and the vocals performed by Chad Gray are really remarquable. A song like 'Call It like I See It' shows the evolution of the band. It doesn't sound like what we expect and the little notes in between the chorus's riff isn't usual in a Hellyeah song. Those kind of little things put together make the difference between 'Band of Brothers' and the previous albums.
'VM Free' and 'What It Takes To Be Me' are really the best songs to me because of their different approach, but they might not work as well live.
Conclusion:
Hellyeah's third album seems to be more an evolution than a following record. It doesn't really sound like the previous ones, but the energy is there, together with some great songs. Some fans could be delighted to find more' Mudvayne elements than Pantera's. The band seems to try another approach and it's great to be suprised by this album and that it doesn't have the same codes. Hellyeah prove to be a band that can adjust and improve itself through time and not be repetitive. A very great record that, in my opinion, will show you a different Hellyeah.
Tracklist:
War In Me
Band Of Brothers
Rage_Burn
Drink Drank Drunk
Bigger God
Between You And Nowhere
Call It Like I See It
Why Does It Always
Dig Myself A Hole
WM Free
What It Takes To Be Me
Links:
Review written by Christophe Pauly